After nearly two years of closing their doors to visitors, the team at the UCLA Guest House is preparing to reopen.
"Barring any further delays, we will be open for business beginning April 4," said Richard McPhee, general manager of the Guest House.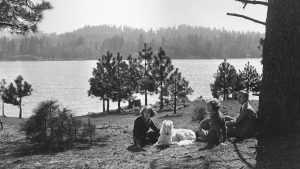 Like the Luskin Hotel and Conference Center and the Lake Arrowhead Lodge, the Guest House will adhere to strict COVID-19 protocols for guests and staff. The 61 guest room property, which has served the UCLA campus since 1985, is a popular choice for those conducting business at UCLA.
In addition to being close to UCLA's renowned sculpture garden, guest also have convenient access to myriad campus activities and buildings, as well as public transportation options such as UCLA's free campus shuttle and public bus stops.
"Visitors love that the Guest House feels like a home away from home rather than a large hotel environment," said McPhee. "We are so excited to be returning to what we do best, which is taking care of our guests. In addition to first-time guests, we look forward to seeing guests who have been coming to the Guest House for years and welcoming them back."