American naturalist John Muir once said: "Wherever we go in the mountains, we find more than we seek." For guests at the UCLA Lake Arrowhead Lodge, going to the mountains comes with an opportunity to find a deeper connection with the land, its history and themselves.
"We want people to get out and enjoy our gorgeous surroundings," said Cassiopeia Figueroa, marketing manager at the Lake Arrowhead Lodge, noting the recent additions of a self-guided history tour and guided walking mediation are proving to be popular with new and returning guests.
With 12 stops throughout the property, the self-guided history tour allows guests to explore, engage and learn more about the property and the mountainous area they are staying in, said Figueroa.
"It brings the origins of the Lake Arrowhead Lodge and our days of yesteryear to life," said Figueroa, adding that the first structure built on Lake Arrowhead Lodge (the main Lodge) is currently marking its 100th year.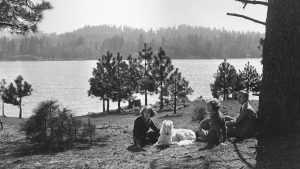 With markers located throughout the 50-acre property, guests learn of the days when Lake Arrowhead Lodge was a new destination for prohibition dodgers and the stars of old Hollywood. The tour also introduces guests to films shot on the property, which was recently named Best Historic Venue for 2022 by Unique Venues, which promotes non-traditional venues to those planning corporate and private social events, and the development and evolution of the property.
For those seeking connection and a guided experience at the Lake Arrowhead Lodge, the new 60-minute walking meditation is a great add-on.
"Our guide prompts you to relax specific muscles while leading you through mental images and visualizations to assist you in entering a state of intentional relaxation and rejuvenation of mind and body," said Anna Stalzer Turner, theactivities coordinator at the Lake Arrowhead Lodge. "During a walking meditation, our scenic forest property provides the ideal setting for connecting with nature and serenity."
Participants are encouraged to listen to the sounds of nature as they traverse the grounds. The calming nature of the exercise allows space for these auditory experiences, including woodpeckers knocking, California scrub-jays calling and ducks quacking.
Depending on the desires and ability level of the group, meditations can take place on the front lawn with minimal walking, or involve various areas of the property, including cardio hill, the Zen Deck, the Frontier Village and the giant treehouse, to name a few.
"There is nothing quite like exercising and practicing mindfulness in the mountains, said Figueroa. "It's a natural mood-booster."